This is an overview of the popular Campagnolo Shamal track wheels from the 90's
Note that these are all only available in tubular, unlike the road wheels which came in clincher and tubular.
1992 first gen shamal track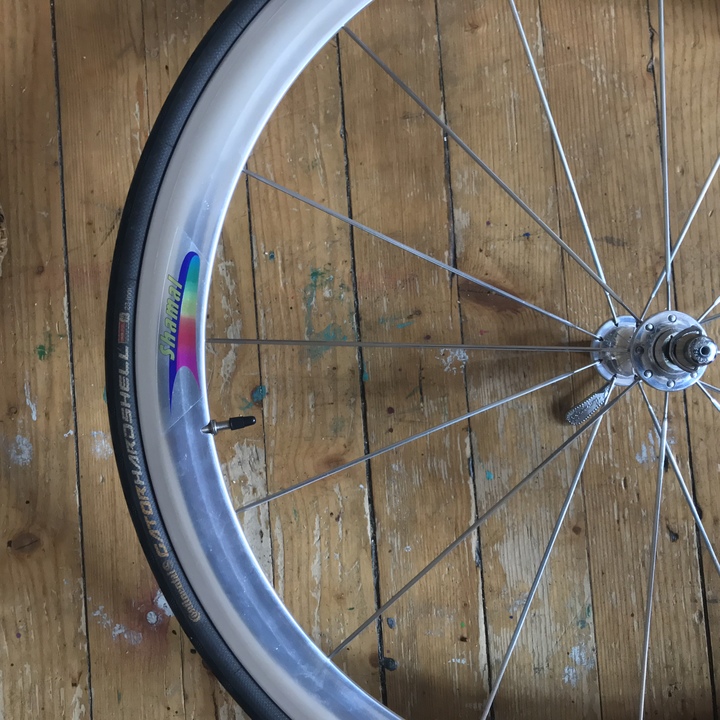 C-record track hubs
Blue / striped stickers
Aluminium polished and anodized rims*
16 spokes
Relatively rare, (for road and track)
Worth? a lot probably
1993-'95second gen Shamal track
C-record hubs
pink stickers
aluminium polished and anodized rims *
16 spokes
Worth 400 for a heavily used pair up to 1200 euros for a mint pair depending on the tubes
Hubs are worth around 350 euros
+-96-??? Third gen Shamal track
Record pista hubs
a lot more common than the previous 2 versions
slightly less sharp rim, more curvature
pink stickers
aluminum polished and anodized rims (different process than the previous models
16 spokes
worth up to €1000 in mint condition
Black Shamal track wheels
Record pista hubs
rather rare
white stickers
16 spokes
with 'brake surface' but not machined
worth up to €1300 in mint condition
Current record Pista wheels
Basically the last set but everything anodised in matte black aluminium.
Record pista hubs
White stickers
16 spokes
Retail for around €800 euro a set, worth between 3-500 second hand
How to tell if you have got a Shamal pista rim or Shamal strada?
Well it's very easy, Road rims have a tiny hole above the brake surface to 'whip' out any water that is in the rims while riding (centrifugal force). A track rim isn't supposed to ride in the rain so there is your answer: no holes except the valve and spoke holes then it is track rim. Oh, and if someone has used a brake on your rims, shame, use it as a road rim then, it's kinda worthless as a track rim
WHAT TO BUY GUIDE:
Defects to look out for
dented rims
75% of Shamal wheels (especially the rear wheel) that I have come across have cracks around the spoke holes. Is this a serious issue? No I haven't seen any snap in half but it does affect value and is handy to know (especially the older ones are prone to cracking)
Replacement spokes. Nearly impossible to find, you will almost always need a donor wheel set for spares
Rub marks from braking? Worthless, pay the price for the hubs, nothing more
Missing hubcaps, happens a lot as many track riders used oil instead of grease for their bearings, you can replace them with hubcaps from road hubs if you want to, no big deal (will set you back another 80€ worst case scenario)
The locking nut for the axle cones, breaks really easy, do not over torque!
If you have a set in storage be sure to use a pair of good wheel bags.
Here are some pictures of common defects on Shamal (track) wheels:
So, here you go, leave a comment if you have any thoughts or doubts, and share with your cycling pals if you enjoyed this article, thanks for reading!