After being asked way too often "what year is this Record front derailleur?" … While it is clearly a Gran sport model… I have decided to make this comprehensive list of all Campagnolo 'Record' front derailleurs from the 50's until 1987.
If you are looking for a comparison between C-record front derailleurs, click here!
Note that there are probably a ton of small varieties in the early years. This is not our speciality unfortunately nor do we have any of those rare parts in our collection. But we will gradually update the blog if we find them.
1953-'66?
These are relatively rare and often get confused with Valentino front derailleurs.
It can be recognised by the chrome plated part 211 (see illustration above).
From the '67 catalogue onwards, it is part of the Valentino group set (with some light modifications in finish quality).
Value?
Along with the chain guide a rather rare kit.
Value: ± 180 euros.
1955-? (chain guide)
Not really a derailleur but I'll put it up here anyway.
Featured in the 1955 catalogue.
Rarer than both predecessors.
Value? €250 according to eBay sold but I haven't been able to sell mine at 175…
1960-'68?
The first front derailleur as we know them today.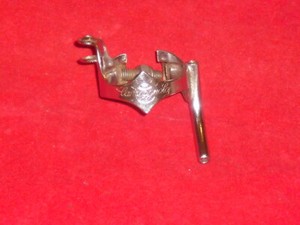 Note the cable stopper suitable for the old style cable guide (1950's-60's).
Value: €40-60.
Used with the brass rear derailleur for a long period discarded by the 70's.
1967-'72?
No more cable stopper.
Still has a large chunk of cast metal where the cable stopper used to be.
Value: €40.
1973-'77
This one appears in the '73 Super Record catalogue. (or should I call it folder?) I have found them on slightly older bikes, so they might be early 70's.
Introduction of the circlips on the upper pivot point.
An Aluminium pivoting arm replaces the chromed brass version.
Cable-stopper casting trimmed down
Note that this one is still a 'Record' derailleur, not specific Nuovo or Super.
Worth €20 (if the chrome is in good condition! Otherwise, worth peanuts, plenty of them out there!.
1978 Nuovo and Super Record!
A very 'important' year for Campagnolo enthusiasts. Many parts changed including the front derailleurs.
Introduction '4 hole' chain guide.
Small band with no reminder of the old cable-stopper
Added CPSC lip. This is to prevent cutting yourself when in a crash (rather ridiculous modification if you consider the sharp teeth of the chain ring).
There have been 'sightings' of these with a black arm, but we assume those were assembled with spare Super Record parts or painted black (as we do see around sometimes).
Value? People seem to be happy paying 45 euros for these. They might be rarer but there are only so many bikes made in 1978 so why pay more? You don't need as many anyway.
But hey value is value…
1978 Gran Sport
Wait, what happened here?
Campagnolo isn't stupid when it comes to branding. They continued to use the old Record front derailleur but marketed it as Gran sport. With the added 'safety feature' that was introduced due to the CPSC mandate.
Old Record derailleur.
added CPSC lip.
1978-'79? Nuovo/ Super Record
This is kind of a special bird. The 4 hole design wasn't exactly a success, the chain pins would occasionally get stuck in the lower hole and snap off the entire derailleur from the frame. Campagnolo changed this rather quickly, while keeping the smaller band from the '78 model. Ironically this one failed as well. How long were they made? No idea, a year? Not very likely, a couple of months? Could be. Did they just continue to use the stock of bands? Not very likely as it's easy to melt them again and pour it in the old mould.
Rarer than the '78 model
value? Whatever the madman is willing to pay
Did you just stare at a Hoax? Could be. there's some speculation involved since no documentation about this is available. These could also be DIY derailleurs. I found this particular one on a 1978 Ti Raleigh 753 FYI.
~1979 Super Record
Introduction of the 'black arm' Super Record front derailleur.
Campagnolo managed to make customers pay for all their previous failures by adding a drop of black paint.
'Old' style clamp band.
Black ANODISED arm (If you have a painted version, it's a fake!).
Braze-on and clamp-on models available (braze on in 82-87).
Value: €45 clamp on, €35 braze on.
1979-'86 Nuovo Record
The version every vintage bicycle collector has in their parts bin.
'Old' style clamp band.
No anodization, all cast aluminium parts except the hardware and cage.
Probably the most common front derailleur ever made (I would say)
Value: €15 clamp on, €7.5 braze-on (As in: you would be stupid to pay more for it)
~1982
I just want to emphasize that this is a season that braze-on front derailleurs became massively popular and almost every major bicycle manufacturer implemented it on their frames. So that's a handy trick to determine the date of a frame set!
We also assume braze-on models for the Super and Nuovo Record models were introduced this year.
1985-'87
The final 2 years of the black Super Record front derailleur.
Shield line around the Campagnolo logo to match the other parts like non-fluted crank arms, shield logo bottom bracket and brake lever hoods etc.
Rare to find a clamp-on version (this one came off an ALAN).
Value: €45 clamp on, €35 braze on.
'LiFeHaCk'
As you noticed the value of clamp-on vs braze-on front derailleur differs, it's the mechanism of supply and demand.
but…
It's really easy to swap the clamp from a Nuovo record clamp-on to a Super Record braze-on. Just remove the small circlips in the upper pivot, wiggle the spring out of the way, slide it off and slide the other one on, install the spring and done. (be careful for your fingers though)
And voilà Team Lecycleur has saved you another 10 euros and a month of looking for parts!